All About Diamonds: April Birthstone Fashion Jewelry
March 15th, 2022
Birthstone jewelry has been worn for generations to imbue one?s look with uniqueness and sentimentality. Birthstones were also believed to grant the wearer certain spiritual gifts. The diamond is one of the world?s most celebrated gemstones, and for good reason. This stunning gem, because of its clear appearance, beautifully reflects light and makes for exceptionally exquisite jewelry.

Glittering Fashion Rings
Though diamond rings are typically associated with weddings and engagements, they also make marvelous fashion jewelry. There are no preconceptions for what a diamond fashion ring should look like, unlike engagement rings, so designers can be free to create unique and daring styles.
This mixed-metal diamond ring from Vahan is a perfect example of this artistic freedom. Intriguing metalwork details decorate the band of the ring, with multiple dazzling, round cut diamonds at its crest.
Classic Pendant Necklaces
Pendant necklaces allow the diamond to take center stage on an unadorned chain. With birthstone jewelry, it is typical for the stone to be the focal point of the piece. Choose a minimally designed necklace whose setting enhances, not buries, the beauty of the diamond.
The various cuts of diamonds featured in this positively stunning diamond pendant necklace articulate the various characteristics of diamonds that make them so sought-after. A setting like this is great for a birthstone and will make for a dramatic effect with any outfit.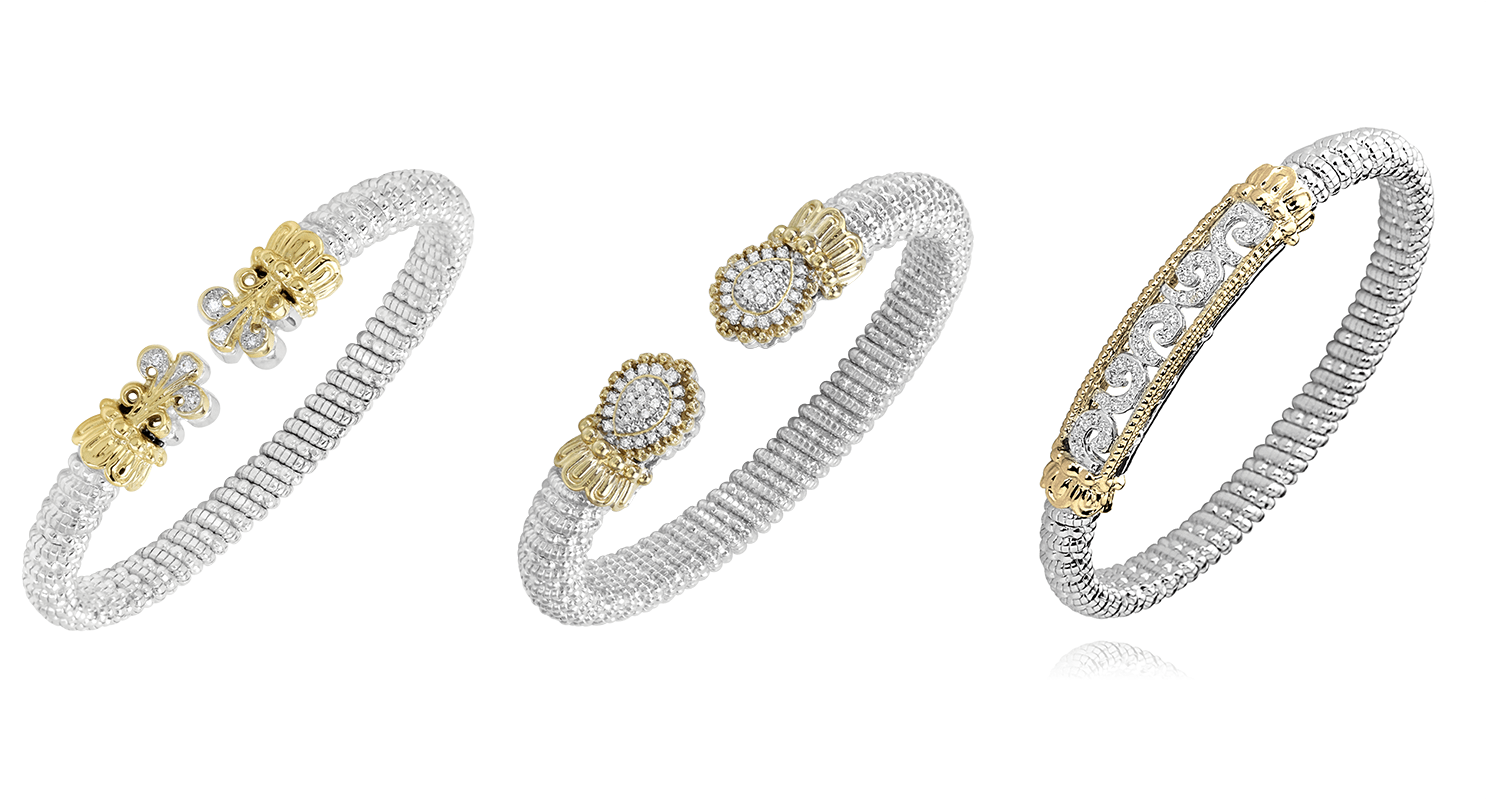 Fashion-Forward Bracelets
A bracelet is a wonderful setting for diamonds because the near-constant movement of the wearer?s wrist allows the stones to catch and reflect plenty of light. Bangles, cuffs, and chain bracelets are excellent settings in which the diamond can garner lots of admiring attention.
A bracelet like this textured, mixed-metal cuff is eye-catching and distinctive. The addition of yellow gold on this bracelet masterfully draws the eye to the focal point of the piece: the diamonds. The versatility of a cuff bracelet will allow its owner to sport their birthstone wherever they go.
Versatile Stud Earrings
Stud earrings are a classic option for birthstone jewelry because it is easy to ensure that the emphasis will be placed on the center stone. The best way to emphasize the birthstone is to wear it in an uncomplicated setting so that it is allowed to shine with minimal distractions.
A pared-back pair of diamond stud earrings surrounded by a sleek halo of smaller stones is a great way to emphasize the beauty of the diamond. Not only will it emphasize the birthstone, but these stud earrings also are excellent at framing one?s face.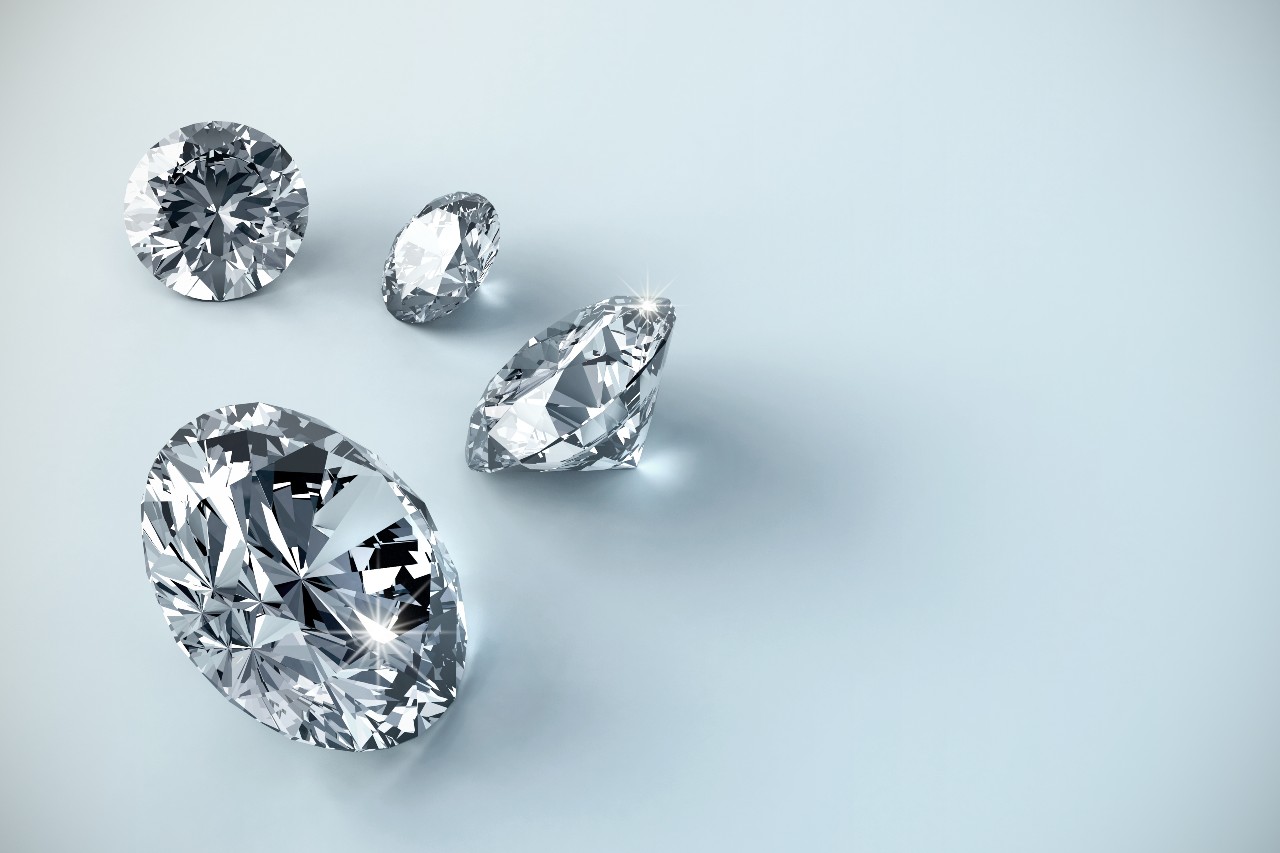 Shop Diamond Jewelry At Bob Richards Jewelers
At Bob Richards Jewelers, we pride ourselves on our rich history of providing our patrons with an extensive selection of quality jewelry as well as unparalleled customer service. Our Germantown jewelry store is stocked with collections from renowned designers like Seiko and Simon G. Our highly experienced and knowledgeable staff is always prepared to help you find the perfect diamond birthstone piece for you or your loved one. For more information on our offerings and jewelry services, stop by our showroom or contact us at info@bobrichardsjewelers.com.