Picking the perfect engagement when you don't know where to start
You've found the perfect partner. She understands you like no one else. She is no stranger to your likes and dislikes, makes you smile, feel safe, and seen. When you surprise her with an engagement ring, you choose a symbol to represent how loved and special she makes you feel.

The engagement ring design is what everybody thinks about at some point before an engagement. You browse and browse, take pictures to show her friends, peruse the jewelry she wears before making a decision, but there is always a little uncertainty-will she love it? Is this ring the right one? How many details should it have?

With our expert tips, you will feel even more confident the ring you pick is the one. In this article, you will learn what you need about engagement ring designs and what makes each one as special as she is. Embark with us on the journey to find the perfect engagement ring!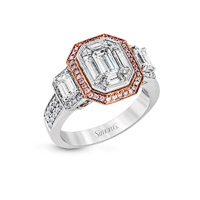 Indulge your beloved with one of the most versatile engagement ring styles. With three options of stones, you get to play with varied diamond cuts as well as other impressive gemstones such as sapphires and yellow diamonds to complement the central diamond. The symbolism of this ring is in the stones: one stone to represent your past, one is for the present, and the largest one is for the dream of a future together.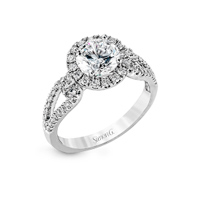 Choosing a halo ring gives the impression of a larger ring! Not to mention the romantic and delicate contours of a halo of diamonds to make her heart melt.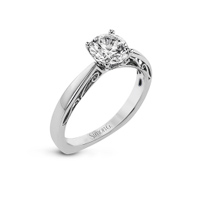 A solitaire ring will help you make an iconic proposal with a Hollywood-worthy engagement ring. Solitaires are elegant and impressive. The center stone is usually framed for a wowing effect. She will not resist the charm in this ring.


Choose a ring by diamond cut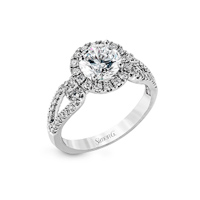 She will be delighted by the preciousness and dazzling fit of a round diamond for her engagement ring. Few designs speak of infinite love like the round cut.
With an oval cut diamond, you are offering her the best of both worlds. This is a diamond cut for those who love the classic round diamond but want a slight extra touch to the design.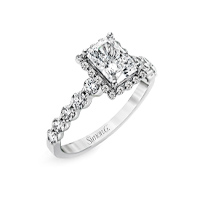 Melt her heart with this elegantly shaped diamond. She will smile brightly when you show her the flawless and genuine facets in this diamond.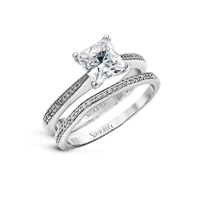 This delicate cut is worthy of a royal title. She will have no doubts you see her with admiration when you put a princess cut engagement ring on her finger. The delicate angles in this cut take a lot of expertise to acquire. Show her you cherish and adore her with a princess diamond.
Take her breath away with a pear-shaped diamond. Unique women love unique jewelry pieces. This is the choice if you are looking for a ring that is just as unconventional as it is breathtaking.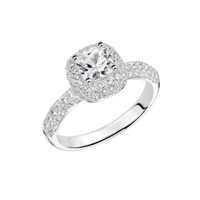 Has she been dreaming of a cushion-cut diamond? Many women do! And now, you can make her dreams come true with this excellent choice that blends the princess cut with the round edges of the round cut.
Pick the diamond for your engagement ring
You've decided on the diamond cut. Now you are wondering what other aspects are relevant to choose
a diamond well. It is simple; just like the diamond cut, not everything in a diamond is about weight.
These fragments of eternity are also desired for their flawlessness. Let's keep it simple:
You are looking for a diamond of large size ➜
Focus on the   carat   (weight) of the center stone.
You are looking for a diamond that reflects light well ➜
Ask your jeweler about the diamond   cut   options for your ring setting.
Your choice is based on flawlessness ➜
Ensure the   clarity   of your diamond. Well-graded diamonds will have few blemishes and insertions.
You seek a diamond that looks like the real deal ➜
Color   is the aspect for you. Diamonds of low color grades can seem yellowish or brown, giving off a cheap appearance.
Remember, a good quality diamond should have a well-proportioned blend of carat, cut, clarity, and color.
Your jeweler is the best person to help you balance the four properties well.
Discover your metal choices
White gold
White gold enhances the radiant effect of diamonds with dazzling reflections. You will impress her with an elegant engagement ring in white gold—a modern and modest shade for the most stunning woman.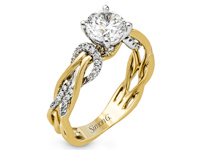 Yellow gold
If your beloved has a warm or dark skin complexion, yellow gold will look absolutely gorgeous on her. She probably already has a collection of gold jewelry and combines every piece well. Make her even more beautiful with a yellow gold engagement ring.
Rose gold
If she loves trendy jewelry and knows how to work creatively with her style, you might want to explore rose gold hues to surprise her. This shade is romantic, rich, and will be a gorgeous surprise to immortalize your proposal.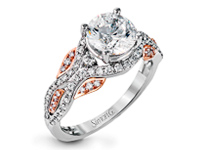 Platinum gold
Take advantage of the sheer light of platinum to delight her with a durable, hypoallergenic, and impressive engagement ring. She will think you hung the moon when she sees the outstanding glow of a platinum ring.
Explore amazing engagement ring designers
Choose a designer specialized in crafting engagement rings for women and astonish her with dazzling elegance and originality. By purchasing a Gabriel & Co. ring, you will never doubt the quality and effect of your engagement ring.
Dive into the possibilities with Goldman's styles of engagement rings. You will have options of vintage, contemporary, and classic designs. Why not surprise the woman of your dreams with an engagement ring of utmost craft and adorned in every detail with rare displays of sparkle and beauty? Don't miss out!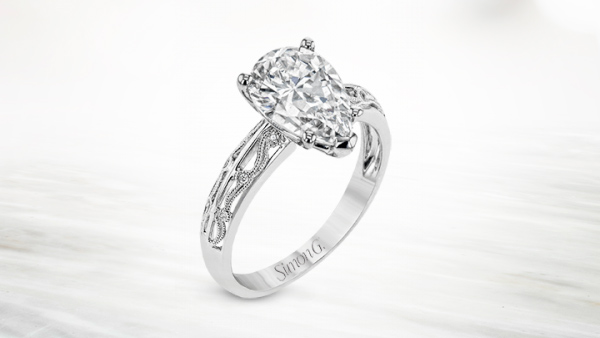 Simon G. specializes in bridal jewelry with one-of-a-kind designs from formidable creators and antique masters. Select a Simon G. engagement ring, and not only her, but every person she shows it will admire your good taste and thoughtfulness.
Engagement Rings in Germantown, TN
At Bob Richards Jewelers, you can rely on our skillful team to provide you with higher-end and exclusive jewelry pieces that will perfectly fit your style and budget.

When you work with us, you will join hundreds of happy customers in the Shelby County area. Whatever jewelry piece, engagement ring, wedding band, or timepiece you are looking for, we will show you innovative designs and concepts. When it comes to customer service, you will not find a more committed team! Find us at 1696 S. Germantown Road in Germantown, TN.