Gabriel&Co Jewelry Guide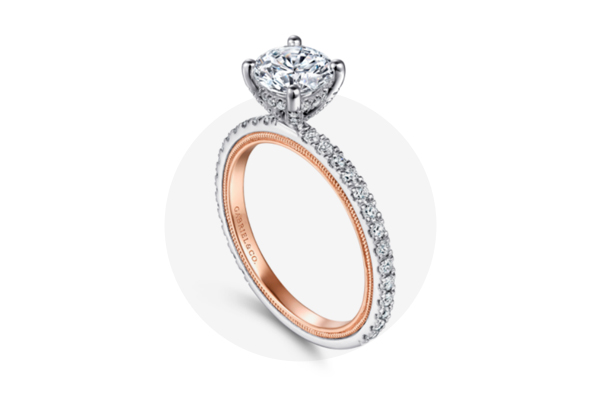 About Gabriel & Co.
The brand is widely known for its unmatched quality, legendary legacy, incomparable craftsmanship, unique jewelry design, and, most importantly, for being an artisan of love. It is truly committed to crafting one-of-a-kind jewelry pieces specially aimed at celebrating special occasions and moments.

let yourself be carried away to Gabriel & Co.'s universe while we take you on a ride to discover their various product categories. After all, Gabriel & Co.'s bridal jewelry is but the trademark of the designer; there's so much more in terms of the different quality jewelry pieces that it crafts.
Why choose Gabriel and Co.?
At first sight, there's plenty of great designers out there in the jewelry market and plenty of options to choose from. But what makes Gabriel & Co. so special? For one, the brand's style is simply timeless. Its incomparable craftsmanship combines high quality innovative and classic elements.

That in and of itself guarantees that its jewelry pieces will be forever in style. So, its multicultural aspect has been able to perfectly combine diverse cultural influences while maintaining its environmentally friendly industry, which deploys fairly sourced material throughout their entire production line.

This ensures that not only will your jewelry pieces be fabulous, you can also live with the peace of mind and pride of knowing that your jewelry is beautiful and doesn't harm our planet. Gabriel & Co.'s honorable ethics and sustainability are hence another aspect that makes it priceless.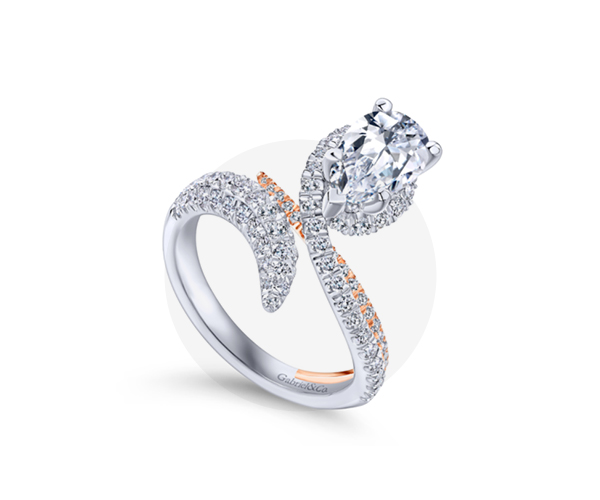 The facts point to the same conclusion: the designer was voted the leader in bridal and fashion fine jewelry in America for the sixth consecutive year in 2021, according to INSTORE magazine, the authority when it comes to jewelry and inspiration for all brides and grooms across America.
Gabriel & Co.'s Bridal jewelry
Engagement rings
Gabriel & Co.'s engagement rings are a token of love which will serve as a constant reminder of the happiest moments in your life. Let the beauty of our exclusive pieces mesmerize you with their sparkly diamonds while you wear them comfortably yet still with glamour.

Since Gabriel & Co. ensures the quality of your engagement rings, all you need to do is find the perfect one for your wedding, knowing that quality will not be an issue for you and your beloved. The designer's pieces embody tales of love and art, providing you the most romantic experience possible ever.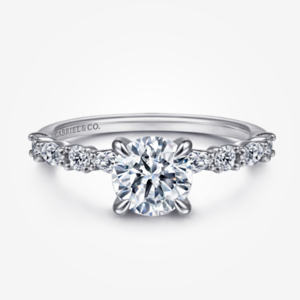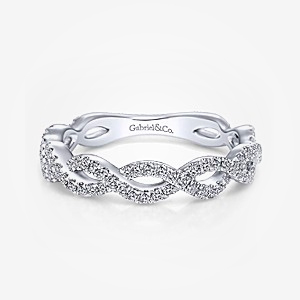 Wedding bands
If engagement rings are the beginning of a love story and a union of hearts between a couple, Gabriel & Co.'s wedding bands are a token of commitment for life. Express your tender feelings that are captured and combined into a suitable adorning piece that you'll appreciate looking at for years to come.

The designer is proudly committed to offering enthralling pieces in yellow, white and rose gold accented with diamonds and carved patterns infused with love. And because wedding bands don't have to be limited to the wedding ceremony, we offer an exclusive selection of Gabriel and Co.'s anniversary bands which will perfectly complement your current wedding band.
Gabriel & Co. Fashion Jewelry
Since the designer's love for jewelry is not limited to bridal jewelry, Gabriel & Co.'s fashion jewelry offers amazingly unique pieces that include stunning earrings, bracelets, necklaces and fashion rings that are guaranteed to express your love for your significant other, or even for yourself, on a daily basis.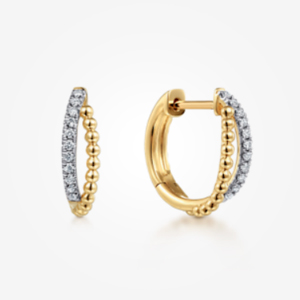 Earrings
Earrings may be the most versatile pieces of jewelry in the fashion industry. These accessories come in endless combinations of styles, colors and shapes that will definitely upgrade your jewelry box so that you'll be able to put together amazing looks in the blink of an eye, mixing and matching however you want!

Gabriel and Co. fashion earrings include various categories of different earring styles that will enhance your beauty in multiple ways. Gabriel and Co.'s stud earrings are a staple piece in your jewelry box and come in infinite shapes, colors and materials - all guaranteed to work for you on any possible occasion.

Whether in shorter or longer styles, Gabriel and Co.'s drop earrings, on the other hand, say a lot about the personality of those who wear them. They are charming and super feminine, and add movement to your look in many different ways. Let yourself be inspired by Bob Richards' selection of them.

Hoops are a fashion statement in and of themselves and are hence extremely popular amongst bold, confident women. Gabriel and Co.'s hoop earrings are delicate and you can choose from its many different designs. Also explore other styles, such as Gabriel & Co.'s huggies, earcuffs, and many others.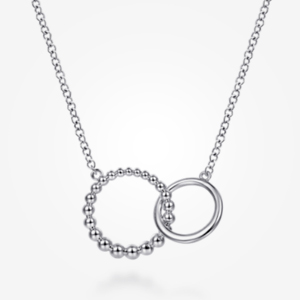 Necklaces
Necklaces are sexy and enchanting because they are worn around the neck. That's one of the things that makes them extremely sexy pieces of jewelry. Gabriel & Co.'s necklaces are uniquely able to enhance your beauty in irresistible ways, and come accompanied by an amazing selection of pendants.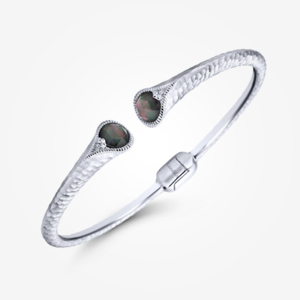 Bracelets
These pieces of jewelry are extremely versatile since they come in different styles. They can be worn tightly around the wrists or not; they can fully encircle the wrists or not. There are many possibilities, so finding the perfect one among Gabriel and Co's bracelets is entirely up to you.

Choose whichever style you prefer. This designer offers bangles, cuffs, chains, and tennis bracelets that will perfectly convey your personality and taste and make you look amazing throughout your day. Opt for the many precious metal colors that Gabriel & Co. offers, making sure they'll suit you perfectly.

You can also choose from the different Gabriel & Co.'s collections, including contemporary, art moderne, and many others. Feel free to speak to one of our experts if you have any questions!
Fashion rings
Gabriel & Co. understands that rings are key pieces of jewelry since they are one of the first things to be noticed as people see you. Not only do rings communicate your style to others in a matter of seconds. They're also pieces that you yourself will admire as you see your hands as you go about your day.

Be inspired by our many Gabriel & Co. fashion rings that feature precious metals such as yellow, white and rose gold as well as mixed and silver, or even by style, including classic, stackable, and twisted fashion rings. If you still think that narrowing your choices down is a hard job, our team will gladly help you!