MENS RING GUIDE
THE ULTIMATE GUIDE TO MEN'S RINGS
The time people thought of rings as being an accessory exclusive only to women is long gone. For some time now, rings have made their name in the fashion industry as one of the main accessories to compose outfits, including those of men's. In particular, rings are associated with bold, strong men, who are not scared of daring in the way they dress.
Everybody wants to be fashionable when wearing accessories, but not everyone knows
how to combine them correctly so that they are able to feel confident while wearing them. This guide is aimed at solving
all of your questions related to rings so that you can know how to use this impactful accessory confidently, and in your favor.
WHAT DOES IT MEAN FOR A MAN TO WEAR A RING?
Remember, our hands are the parts of our body that we use and show off the most the majority of the time, naturally. Today, most of us spend a significant amount of time on our phones during our daily activities, and since cell phones have become a crucial part of our human interaction, so is the attention they naturally draw onto our phones.

With all these things considered, wearing a ring as a man has acquired a meaning of being someone with a bold personality, confident, someone who's not afraid to show off their beauty and put themselves out there to be noticed by society. But in order to do that in a fearless and secure way, it's necessary to know how to properly wear a ring.
HOW EXACTLY SHOULD A MAN WEAR A RING?
Wearing a ring with style and fashion authority, as a fashion statement, demands observing a few aspects that are basic but very straightforward. It's not rocket science. The first rule is balance. Remember: the whole pointof wearing a ring is to complement an outfit and not take over the entire attention of the look itself.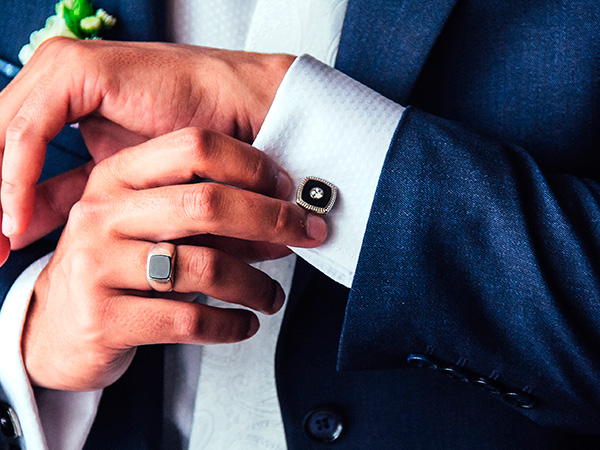 In order to make sure balance is observed, if you already like to wear accessories and are simply new to rings, ask yourself if you're going to be wearing other jewelry pieces as well as other accessories, such as belts, watches, bracelets, necklaces. These should minimally match the ring to make sure there will be harmony among the objects you wear.
For instance, if you are planning to wear a yellow gold bracelet, you should avoid wearing a rose gold necklace or ring, because these may send off conflicting signals in terms of the overall harmony of your look. The same would be true for yellow gold rings and platinum pieces. Ask yourself: would these pieces match one another? And you'll know.
WHERE SHOULD A MAN WEAR A RING?
Notably, there's no rule as to where exactly a man should wear a ring. There's no difference between left or right hands, even though wearing a ring on the left ring finger is usually associated with wedding bands. That doesn't mean that you cannot choose to ignore that. Just keep in mind that people may think you are married if you do so.
Also, if one of your hands is full of bracelets, it may be a good idea to balance it off by wearing the ring on the other hand. Those kinds of guidelines really facilitate the way you not only wear rings but also compose your looks, and will over time make you more confident not only concerning rings in themselves but also all other accessories.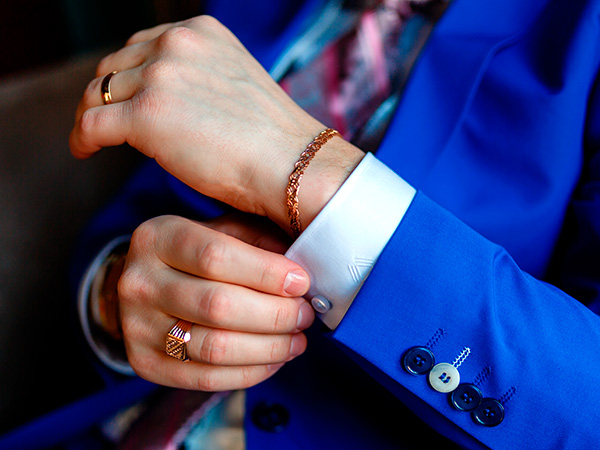 WHAT KIND OF RING SHOULD A MAN GET?
Rings come in a variety of materials, formats and styles, so the hard option is to know which one will complement your personality in the most perfect and harmonious way. Proper combinations begin with harmony and balance. At first, try to avoid shiny and flashy materials if you're not used to wearing rings as part of your daily routine.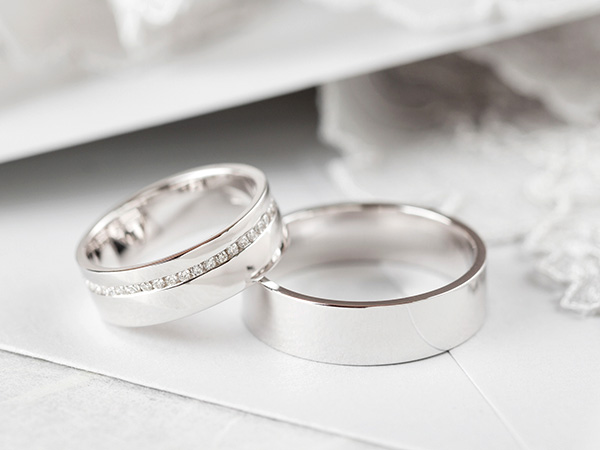 When in doubt, the top chosen materials by men are metals of darker hues such as onyx, stainless steel, titanium or white gold since they are more neutral metal tones, which are easy to match many types of skin colors, but also because some of them have positive properties as metals which are known for naturally balancing off negative energies.
Yet darker skin tones call for yellow gold rings. Over time, you can choose to dare more as you gain more confidence and master the combinations among accessories, then you can look to add gemstone fashion rings or even diamond fashion rings to your wardrobe. Remember, the sky's the limit and it is entirely up to you!
DISCOVER THE BEST SELECTION OF MEN'S FASHION RINGS IN GERMANTOWN, TN
Now that you know all you should know about rings, come by our store at 1696 South Germantown Road in Germantown, Tennessee. There, you can have a complimentary talk with one of our expert staff members and they'll help you find the perfect ring for you in person. If you prefer, browse our website either through the links above or call us at (901) 751-8052 to speak to us over the phone.