Say ?I Do? to These 2022 Engagement Ring Trends
December 12th, 2021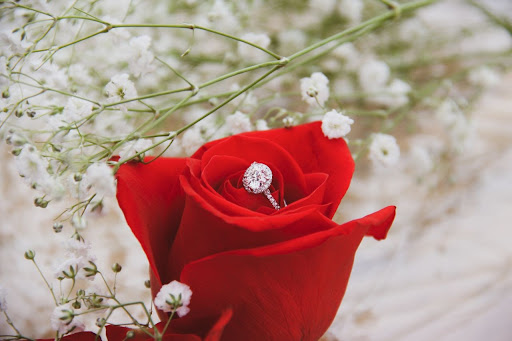 In 2022, we are manifesting a perfect engagement for you right around the corner. Whether you are shopping with a loved one or making it a surprise, these 2022 engagement ring trends can simplify the ring shopping process to give you the latest and greatest in bridal designs.
Double the Fun
Double-banded rings are set to take center stage in 2022. With double-banded rings, the negative space adds an intriguing and dynamic element. It can elevate the look and brilliance of any stone shape, whether you go for the classic round cut or the vintage marquise.
World-class designers split, curve, and perform other manipulations to create a comfortable fit and captivating design. Look toward this show-stopping Simon G Romance engagement ring featuring shimmering round cut diamonds. It is a modern and fresh take on the double-banded trend.

Vintage Flair
Bring in the New Year with old designs and embellishments that have stood the test of time. Vintage engagement rings, including repurposed heirloom pieces, are super popular right now. Various eras each have their own distinct flair that lend themselves to vintage designs.
Look for rings with intricate filigree engravings that borrow elements of lace and scroll work. Milgrain beading can elevate the shank or setting. Look toward vintage-style diamond cuts such as Emerald and Asscher cuts, prized for their large tables and superior clarity.
Go all-out with a Goldman vintage engagement ring featuring a stunning center stone of your choice (Emerald, Asscher, Radiant, Princess, or Cushion), gorgeous round cut stones, a stunning halo, and a split-shank. Milgrain and filigree detailing adds the final layer of elegance.
Splash of Color
Bring color to your ring with a wide range of colorful gemstones as an alternative to the traditional white diamond. If you are positive your loved one prefers gemstones over diamonds, there are plenty of stones to choose. Think sapphires, emeralds, and rubies. Consider your loved one?s favorite color or birth month stone. To create a striking contrast, feel free to pair your white diamonds with color gemstones.
Gabriel & Co?s stunning three-stone ring features a remarkable octagonal center diamond flanked by two sapphire side stones along with a beautiful halo. Brilliant pav? diamonds give your wedding band a magnetic and sparkling look.

Always and Forever
Express your undying devotion to your loved one with an engagement ring symbolizing the eternity of love you have for one another. Eternity symbols have been popping up in engagement designs in the bands along with the setting for center stone. Your wedding band will stack well with the looping designs of an eternity engagement ring.
Symbolize your love with this diamond split shank engagement ring from Gabriel & Co. This ring splits apart and utilizes twisting white gold bands with the center stone as the middle point of the eternity symbol between two rows of stunning diamonds shining forever.

Marquise Cuts
While marquise diamonds can also fall into the vintage trend category, they are worthy of a mention on their own. These classic diamonds look flattering and create an exquisite look. The diamond?s long and narrow shape can make your stone look larger than it is.
For a memorable proposal, choose this marquise ring with a halo of marquise cut stones as well. The effect is like glittering petals around a stunning center. It's a look fit for royalty.
Find Trending Engagement Ring Styles at Bob Richards Jewelers
No matter what trend you go with, shop Bob Richards Jewelers for a stunning selection of engagement rings and wedding bands to complete your set. Stop by our Germantown location to speak with one of our friendly and knowledgeable jewelry professionals. We are here to find the perfect ring for you and provide the care it needs to last for generations to come.